A Reliable and Trustworthy
Local Roofing Company
We are a family-owned and operated business. Led by fully licensed and insured contractors, we have been serving communities in Maryland and Delaware for more than two decades.
We are experienced experts who offer industry-leading products and professional roofing services. You can be sure that we will exceed your expectations while delivering the workmanship and respect you deserve.
The Power of Word of Mouth
At Bayside Exteriors, we take pride in our strong community presence. Our established relationships with our past customers have earned us referrals.  
We focus on your individual needs by providing honest and affordable services.
The Works of Our Detail-Oriented Roofers
We focus on achieving your personal objectives for your property. You can explore our website for more information on our completed projects.
Bayside Exteriors is a certified, GAF Master Elite Contractor, using high quality products. 
Frank Dunn of Salisbury, Maryland, has been named the winner of a new roof in our 2017 No Roof Left Behind initiative. He is the most kindhearted person who would never ask for help but would be the first to offer help to anyone in need.
Dunn works full-time and part-time to take care of his three children. One of his sons, Christopher, needs lots of extra attention. He has been working so hard for his family. As a show of appreciation, we at Bayside Exteriors have given back the love and support he is always so willing to give.
His 20-year-old roof received the transformation it needs to keep his family safe. Dunn received a full roof replacement, using the GAF Timberline American Harvest Nantucket Morning shingles. Our team completed the project on December 21, 2017. "I could not be more grateful," says Dunn.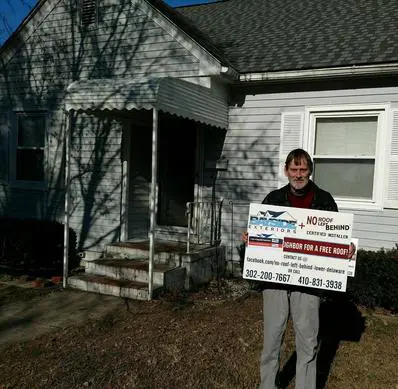 Get More Information About
Our Roofing Systems
We are very willing to help you protect your property from potential damages. Our team specializes in metal and flat roofing systems. Browse through our website for more details on what we offer.